Download Your Copy Of:
"Three Steps to Sailing Into Your Best Year : Creating Your 2012 Compass"
by Debra Smouse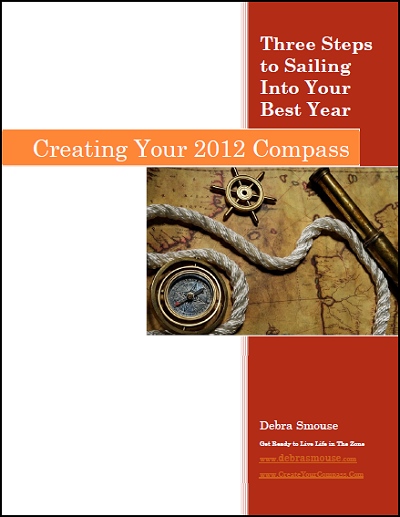 Compass Coaching Plans
Give yourself the gift of support and accountability in 2012 with a Compass Coaching Plan. Three Steps to Sailing Into Your Best Year is a powerful tool to get you clear about what you desire at your core.

But life being well, life, things happen and it's easy to get off course. What if you had a helping hand to gently steer you back to your innermost desires and goals for yourself in 2012? I've designed four custom Compass Coaching Plans to assist you in keeping your momentum in 2012.

I really appreciate my subscribers. I know our inboxes are flooded with materials on a regular basis. So as an additional bonus to those of you who have allowed me to appear regularly in your space, I've created discounted rates on my "Compass Coaching Plans" coaching plans through April 1, 2012.


You get a year of email and voice-to-voice coaching along with the accountability of regular check-ins on the goals and focus you set. And so much more.
Invest in YOU in 2012.
This page was updated on 01/06/2012