Sometimes, the seasons bleed into each other without much fanfare. Sure, as Fall arrives you may grab that Pumpkin Spice Latte (or is that Pumpkin Spice Everything?). But the thing is, unlike cultures of the past, there isn't a lot of rituals of transitioning from one season to the next. And while you might think that spring cleaning is the only time to use a deep cleaning as a ritual of sorts to shift seasons, that's not the only case. In fact, I almost think we need fall cleaning even more.
See, tending your home is a way to send a signal to your mind that you're preparing for what's next. It's an act of love and kindness as you remind yourself that you are the queen (or king) of your abode. And I know I'm not the first person to remind you that as the seasons shift, our bodies need different care. So, just like you pull out sweaters for those cooler nights, your home can be the catalyst for doing good things for your body.
And how can I fail to remind you that any activity done with thought, kindness, and love can be a holy act. Fall cleaning done as a conscious act also sends the signal that you are connected to something more. And no, I'm not talking about the connection to more folks on Instagram. I'm talking about that deeper connection to your own soul.
Beyond a deep cleaning, here's some tips, tricks, and ideas on how to parlay fall cleaning as a way to nourish your mind, body, and soul.
Fall Cleaning for your Mind:
When you dig into every nook and cranny you are able to take an inventory and put things where they belong.
Fall cleaning your home invites you to make a list of repairs that need to done.
It's a great way to fuel ideas and evaluate your rooms for redecorating.  A great project for winter when it's too cold to be outside.  (Also, January is typically when most stores run their "white sales" on home goods like linens.)
A clean house will make you feel more relaxed and provide a better environment for reading, thinking, and dreaming.
Love to throw holiday parties?  Put your mind at ease of the last minute hustle and bustle of whipping your house in shape for company by doing it now.  When it's time for your guests, you'll just need to give the house a lick and a promise.
Fall cleaning of closets gives you the opportunity for gift ideas for your loved ones. Doing so in a thoughtful way now can help you avoid overbuying as it get's closer to the holidays.
Cleaning out your closet in the fall gives you the opportunity to shed clothes you didn't wear last fall or winter and helps you evaluate what you need for the colder months.
Donations to Goodwill are tax deductible and need to be done before December 31st. So, do it now in the fall!
Hiring someone to help with – or do – some heavy cleaning stimulates the economy.
While you're cleaning your physical space, pause to take five minutes to declutter your mind with a brain dump.
Fall Cleaning Reminders For Your Body
Cleaning is good exercise.
The physical removal of excess items in your life – old computers, clothes that don't fit, and unused appliances – is even better exercise.
Think of your fridge as a display box for meals. Having an organized, sanitized, sparkling clean fridge can help you make healthier eating choices.
Fall cleaning your home frees it from mold, mildew, dust and bugs.  These things can wreak havoc on your health, especially with cold and flu season around the corner.
The removal of excess clutter in your home reduces the chance of household injuries from trips and falls.
Just as you made a list of repairs for your mind, this is also beneficial for your body as it allows you to get on top of any spaces that are letting in drafts. So, don't forget a walk around the outside of your home, too.
Fall Cleaning is Good For Your Soul
Stuff has psychic weight.  De-cluttering your space to only what you love will  make your heart feel lighter.
When your surroundings are serene, your soul will be able to create.
Sunlight is precious in the winter months.   Fall cleaning will mean your space will embrace sun-kissed air.
As you prepare for a new season, it allows your soul to shift.
The holidays are coming – and coming fast!  Creating clean, uncluttered spaces allows you to focus on the spiritual side of the season.
Planning for a new decade (hello 2020!) is easier to do when you can connect to your heart – instead of being distracted by mess and clutter.
If a full out deep cleaning for fall holds no appeal, may I suggest you deep clean – and de-clutter – just three vital spaces?
For your Mind – Clean your desk
This is where you work.  This is where you create.  Give yourself the gift of clean, uncluttered space.  Clean out your drawers.  File all your papers.  Dust and polish the surfaces.  Clean your computer, including your keyboard.
For your Body – Clean Your Kitchen.
Every meal that nourishes you and your family begins here.  Stress eating is common for folks, especially during the holiday season.  Having a clean, organized kitchen will encourage you to make better choices.
For your Soul – Clean Your Closet.
Every piece of clothing you wear says something about your sense of style.  Your sense of style creates your personal brand. Bring your winter clothes to the front of your closet and the summer clothes to the back. Remove everything off of shelves and give them a good dusting.  If you haven't worn it in a year, toss it.  If it doesn't fit, toss it. Then when you go to get dressed each day, you have a serene space of items for the amazingly perfect canvas: you.
Though fall cleaning may seem an overly simple way to love your life, I can promise you that giving some time and attention to your physical space will work wonders in finding ways to love yourself and your life.
---
Want to do a deeper dive into Fall Cleaning and prepare for the upcoming holiday season?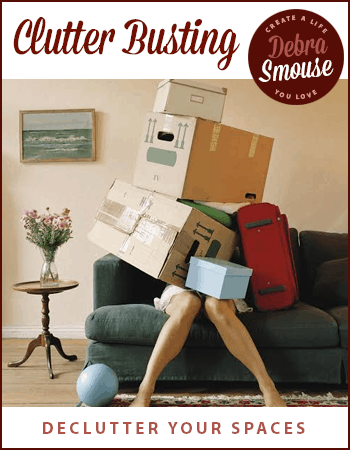 One of the biggest lessons I have learned is that you cannot welcome new things into your life if you don't release some of the old stuff. You need to begin to purge things from your life. Getting clear in your life by dealing with your physical clutter (big clutter and small clutter) will allow you to direct your precious energy towards creating the clear path to living your best possible life.
2022 Course Dates:
Before the Holidays: Beginning Sunday, October 30, 2022
(*Note: As of 2018, this course is lifetime access. That means, you're IN at no additional cost anytime the class runs.)
Course Investment: $21.
Purchase Clutter Busting Email Course