Look for us in November 2021
(Part of the 30 Days to Clarity Family of Courses)
Imagine creating a holiday season that truly feeds your spirit.
Would you like a journey through the season and feel not only connected with your heart and soul, but leaves you feeling more joyful?
Imagine closing out the year in deeper relationship with yourself while creating a loose plan for the coming year.
The holiday season, no matter what your religious beliefs, is a time of celebration. You don't have to believe a particular way to use the deeply rooted and rich traditions and symbols of the season as a personal ritual on your path of growth and purpose.
Using the symbolism of each Advent Candle as a guideline for exploring your desires. To use the holiday season to feed your spirit so that the holiday period leaves you feeling satiated and deeply pleasured.
The Advent Series is a spiritual journey for the soul exploring the tenets of Hope, Preparation, Joy and Love. The 2021 Advent Series comes with two extra bonuses.
One – As a holiday gift, this course is offered at no cost. Sign Up HERE.
Two – Be nourished by the wisdom and voices of eight additional authors including: Andi Cumbo-Floyd, Becca Rowan, Jenn McRobbie, Karen Milito, Kayce Hughlett, Melissa Bartell, Molly Totoro, and Theresa Reed
The Advent Series in 2021 will begin on Sunday, November 28th.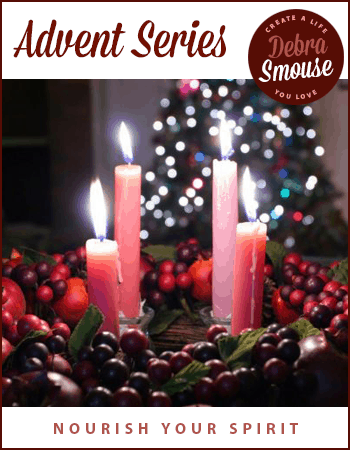 "Debra is a coach who models what she encourages in her clients—deep soul searching, practical living skills, and solid business sense. Whether you're new to exploring personal growth or someone who assists others along their own paths, Debra offers a style that meets you where you are."