It's Your Time to Soar!
Let me teach you how to finally love your life & stop living with unnecessary regret, suffering, & stress.
It's an extraordinary experience to be a woman today. If you think about it, we are literally creating the roadmap to our lives out of thin air. The blueprint to be a "modern woman" doesn't exist; we all get there in our own way. And that can make it very hard to know which paths lead to happiness, and which ones lead to stress, anxiety, and regret.
Following the examples of fake lives on social media doesn't help us either. No one REALLY looks like they do on Pinterest. Perfection is an illusion far too many people swallow like Kool-aid.  All we really have to guide us are the few good intimate relationships where we carved out happiness, sometimes only for a short while.
How those relationships translate into a formula for happiness is confusing. What works in one are of our lives, rarely works the same in another. But there is a common thread that weaves them all together. And when that thread is woven through our whole lives, well, magic happens.
If happiness, ease, consistency, and grace are what you long for, I'm here to tell you that it's nowhere near as hard as it seems.
Where you are on this journey is a part of the universal experience you must go through to find your own version of happily ever after. No one can do it for you, AND if you want to be happy, you must do it for yourself.
I know what it takes to walk this path, because I've done it. To help the women in my life, I pulled together my best tips, tricks, and life hacks that took me from barely hanging on to thriving in my own life.
Join me for 11-weeks to walk this transformational journey from who you are TODAY and who you really desire to be.
Included in the course will be the following modules:
Module 1.  Mapping Out Your Foundation For Change
Module 2.  Get Clear On Who You Are & What You Want
Module 3.  Embracing Your True Self & True Essence
Module 4.  Are You Sabotaging Your Own Happiness? Exploring Common Ways People Self-sabotage
Module 5.  Will You Choose to be Bitter Or Soften & Age Gracefully?
Module 6.  Rid Your Life of Toxic Inputs
Module 7.  Little Ways & Pleasure
Module 8.  Toxic Relationships
Module 9.  Finding Solace In Your Own Company
Module 10.  Vulnerability As A Superpower
Module 11.  Taking Your Work Forward
Tools you'll receive to help you through the course:
Eleven weeks of transformational course and curriculum
Video introduction with each of the eleven modules
Three lessons per module. Note that lessons are presented in a written format and audio download to address all learning styles.
Downloadable worksheets to accelerate your learning and assist you in growing.
Weekly challenges to take your work to the next level
Weekly "Office Hours" for group coaching (audio recording shared in case you miss it)
Bonus "Real Talk" Videos
Private Facebook group for support, community, and encouragement from fellow particpants.
Bonus interviews from amazing women to help illustrate what "Loving Your Life" looks like in action from luminaries, including:
The investment for Lifetime Access to this transformational course is $795
This course includes lifetime access to the material and training. My commitment to you is that every time it's offered, you're automatically in. This includes additional bonus interviews and any course updates.
Join me now.
We officially begin on work together
on May 31, 2020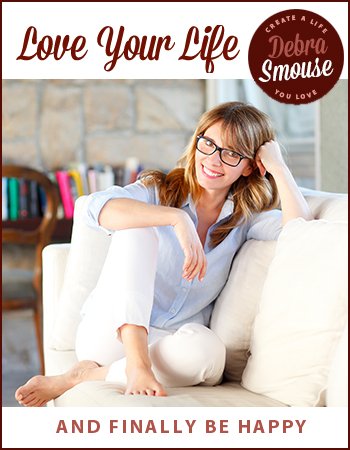 Learn More About Finally Love Your Life
"FLYL is an authentic and deep yet practical and fun program all wrapped up into one.  Debra's extensive knowledge coupled with her emotive writing and ginormous heart provide the tools, support and space to explore and discover, evaluate and play.  As a result of class, I was able to dig in and shift some major challenges that were keeping me stuck in annoying and frustrating patterns.
I also realized how little time I was devoting to having FUN and making time for simple pleasures.  With these insights and some easy changes, I have grown, gotten more courageous and have way more delight and joy in my life. "
"No matter what age or stage we are, sometimes life just isn't everything we want it to be. This course offers amazing insight into some of the many reasons why.
Deb Smouse has prepared an intensive program to help decipher the ways we can derail our own happiness, and, most importantly, lots of concrete tips and tricks for getting back on course to Finally Love Your Life."