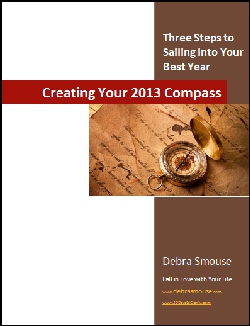 Give yourself the gift of support and accountability in 2013 with a Compass Coaching Plan.
Three Steps to Sailing Into Your Best Year is a powerful tool to get you clear about what you desire at your core.
But life being well, life, things happen and it's easy to get off course. What if you had a helping hand to gently steer you back to your innermost desires and goals for yourself in 2013?
I've designed four custom Compass Coaching Plans to assist you in keeping your momentum in 2013.
You get a year of email and voice-to-voice coaching along with the accountability of regular check-ins on the goals and focus you set. And so much more.
Invest in YOU in 2013.
There are three ways to get your very own copy.
One – As a holiday gift to my subscribers, this powerful tool is available complimentary for a limited time.  Simply go here to subscribe and upon confirmation, you will be emailed a link to download all the parts of the eBook.
Two – Purchase the book here at a discounted holiday rate of $15.00 via PayPal.
Three – Purchase a Year of Support and Accountability with a Compass Coaching Plan.   I've designed three custom Compass Coaching Plans to take your work to the next level.
The Small Print: