H ello, darling. I'm so glad you're here.  I know there's something you are searching for – and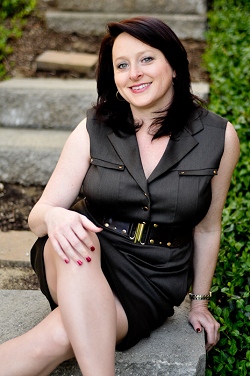 I want to help you discover it.
Maybe you're feeling a bit overwhelmed by life or torn by needing to fit everything into your schedule.  I can help you. I'm an expert at De-TANGLING!  And, I LOVE doing it.
Think of me as the De-Tangler.  I am like Johnson's No More Tangles, but for your schedule and your life.
Maybe you're feeling scattered –  as in that feeling where not only are you not living your life – you are just hanging on by the knuckles to survive. I am here for you,  to hold space for you as you allow yourself to fall apart – and to help you pick up the pieces and reassemble them into something that feels like a life you can thrive in.
When you are scared, I'm here to be your cheerleader.  I know that deep within you there is a well of courage.  You just don't recognize it.  Or maybe – just maybe – you feel you need permission from someone else to be courageous.  I'll give you permission to step up in your own life and make it your own.
When you confess to me that you don't want to live the life you are expected to live, I will understand.  I've been there – living a life that I was expected to be living – being the perfect mother and the perfect wife.  When it all fell apart, I began to discover what I really wanted in life and became an explorer and an adventurer.  I learned that outside the lines of polite society's expectations is an awesome place to live.
I won't judge you at all – instead I can tell you that I understand.
I will support you in pursuing your dream and breaking out of your shell. Because I see the best you that you can be – even if you are unable to see it in this moment.
So what do you say?  Are you ready to get to work?
The 30 Days to Clarity Family of Courses: Your Season's Pass
Does it surprise you that one of the major things standing between where you are now and creating a life you love is clutter?
Maybe you're thinking, "Clutter? What? Why clutter? My environment doesn't have anything to do with what is happening in my life. Those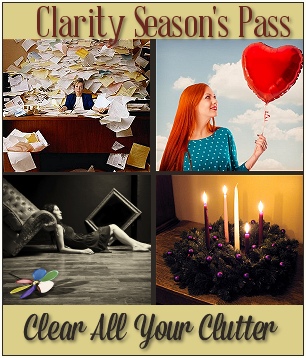 things are just things."
What if I told you that the trick to being happy was found within your own dreams, not in the outside world?
What if I told you that you can create the kind of life you want?
What if I told you that the way to attract a lasting love – with someone that loves you warts and all – was about accepting yourself first?
What if I told you that if you want to love your life, then you need to seize clarity and awareness?
It's time to stop pretending your life is perfect and instead, create a life that is nourishing and supportive.
You get all four courses: The Advent Series, Clutter Busting, Clearing Brain Clutter and Clearing Soul Clutter for one price. As a bonus, you are eligible to repeat the class every time it's run – at no additional charge.
How would you like unlimited access to the entire 30 Days to Clarity family of classes?
I'd Love to Tell You I've Always Had it Together
But that's not true. I spent years just trying to survive. I pretended to the outside world that my life was perfect, but inside I was wondered what was wrong with me.
After an agonizing divorce, I began trying to figure out who I really was and what I needed to do in order to really thrive in my life. I tried a lot of things along the way: work, travel, friends, and lots of dating.
Now, I live a daily life that I love. And I got here by beginning to shed the stuff that was in the way of who I was born to be.
I'm talking about the physical clutter I was tripping over. And all the stuff I was buying in hopes it would make me happy. (Secret: the real treasure isn't in stuff – it's in YOU!)
I'm talking about the constant mental drain of not knowing what I really wanted. About my dreams getting lost in the swirling thoughts.
I'm also talking about the half-assed approach I was taking to my life. And, instead, how I got clear and took control. The vision for my life was there, shrouded under a but I needed to shake it off. By creating a vision for my life – and a plan to get there.
I've taken every shred of insight I've gained in my 46 years around getting clear and focused and distilled it into FOUR whole courses.
The All Access Season's Pass to the 30 Days to Clarity Family of Courses
An experiment in 2012 with participants showed that most folks appreciated repeating a course as their lives and needs adjusted and changed over the year.  They cleared more clutter, got clearer thinking, and found oodles of peace and inspiration.
And, since I run each course individually, you can "opt out" of any course run and pick it back up the next time it's offered.
Offered Once in 2014 – Course Dates
Sunday, November 30, 2014 to Tuesday, December 30, 2014
Offered Once in 2015- Course Dates
Sunday, November 29, 2015 to Tuesday, December 29, 2015
2015 Course Dates:

Sunday, January 18, 2015 to Tuesday, February 17, 2015
Sunday, May 11, 2015 to Tuesday, June 10, 2015
Sunday, October 25, 2015 to Tuesday, November 24, 2015
Clearing Brain Clutter (Discovering Your Heart's Desires)

2015 – Course Dates:

Sunday, February 22, 2015 to Tuesday, March 24, 2015
Sunday, August 09, 2015 to Tuesday, September 08, 2015
Clearing Soul Clutter (Creating Your Vision) –
2015 – Course Dates:

Sunday, March 29, 2015 to Tuesday, April 28, 2015
Sunday, September 13, 2015 to Tuesday, October 13, 2015
The Investment: $109.00 before 12/1