Though I know there are no magic solutions to life's challenges, I want to share my secret weapon that I've been using for the last fifteen years that doesn't cost a dime:  choosing a word of the year. Think of it like a theme song to motivate you as you move from here to what's next. Your word of the year is there to serve and support you as we enter a new decade.
Yes, my dear. Not only are we on the edges of a new year, but entering a new decade. And for many folks that means making New Year's Resolutions. I have to admit that while I'm a fan of goals and often create goals that come to fruition, I don't particularly love resolutions. I also understand that resolutions don't work for a lot of folks because they hold a different connotation in our thinking processes.
Sure, we may begin the year – the new decade – with the best of intentions. But lose momentum because we never got clear on their why. Or flounder because we just don't have a clear enough focus.
That's where the word of the year comes in. Choosing a single word (or short phrase) gives a guiding beacon of light for your journey.
If you've been reading my blog for long, you probably know how I feel about following a thread of desire. And doing so can be a holy calling. To take the light that burns in your soul and allow it to grow and burn brighter. You, my darling, deserve to see those desires and dreams become a part of your reality.  And that's why I love this time of year. Because even without making resolutions, you can take the energy that a new year brings and dive into the depths of your desires.
See, my dear, my past words of the year have been there to serve as both witness, guide, and glimmer of hope when times have been tough. Because we all need a little help and guidance.  I guess what I love about the word of the year process is that it allows me to discover deeper desires, but propels me forward.
Wouldn't it be amazing to know that this word you choose will propel you forward as you plant the seeds of your desires? That by choosing a word of the year, you'll have a beacon of light to look towards when that momentum fades.  Or when times get tough and you're needing just a smidgen of hope to help you persevere. And then, my darling, your word of the year will  stand beside you as you move towards harvesting the bounty of your labors.
In my experience – as a woman and as a coach – choosing a word of the year is the magical ingredient to creating an amazing year.
---
Would you like a guide to help you choose a word of the year for 2020?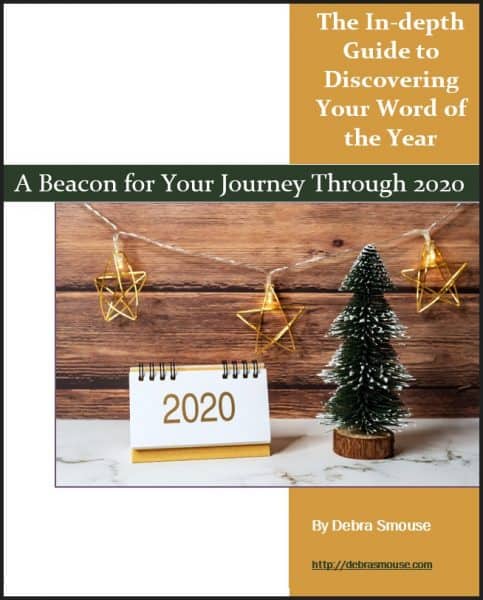 I know that this is a "busy" time of year…yet I also know that if you are here, you desire to have a nourishing daily life. This eBook / workbook is designed to help you with that.
In Part One, you'll review a list of more than 1000 words and begin pondering what Word (or words) is right for YOU in 2020.
Take a look back in Part Two, as you Bid Farewell to 2019.
Look ahead to 2019 in Part Three and begin to breathe life into your desires.
Part Four provides you with a series of tools to help you gain clarity around the best Word to nourish and guide you for your journey through 2020.
In Part Five, you'll Declare Your Word (or Words) of 2020.
I've also added a Bonus: Ways to Work with Your Word of the Year. This section suggests a dozen ways to help seal your Word…and more than a dozen journal prompts to continue to check-in with your Word throughout 2020.
Get your FREE Copy of this powerful workbook: A Beacon for Your Journey Through 2020: The In-depth Guide to Discovering Your Word of the Year.
Never forget that you deserve to create a life you love. I can't wait to hear your Word of the Year for 2020 to guide you on your journey of creating your best year yet.