Darling, are you tired of colliding thoughts? Do you feel as if your passions have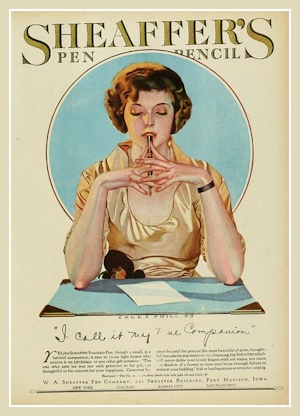 been buried under layers and layers of existing? Are you so overwhelmed with "to-dos" that you don't have time to acknowledge what you really desire?
Are you channeling Scarlett O'Hara and vowing to think about what you really want tomorrow?
Would you like to know my secret for getting clearer about what you want, an effective trick for making a decision, a path to tame battling thoughts and gain clarity around just about anything troubling your mind?
Putting words to paper.
One of the biggest challenges my clients discuss with me is around clutter.  Clients tell me about colliding thoughts and overwhelming to-do lists.   Important tasks are forgotten.  Long term desires and goals are ignored because there "isn't enough time" to put them in our schedules.
I'm sure you were hoping I'd gift you with a magic wand that you could wave to make your heart's desires crystal clear.
Or a magic pill that would suddenly part the clouds in your mind like the sun on a rainy day.
Or a the secret location to a mystic waterfall that will wash away your the layers hardening your heart.
Darling, the truth is that you have to get a little ink on your fingers to clear that mental clutter.
It seems both simple and daunting to ponder.  However, let me share with you what can happen when you take what's swirling around in your head and committing it to paper:
Take inventory
Remember the details
Frees up mental capacity
Gets you unstuck
Refine ideas
Break down big and vague ideas into something manageable
Create manageable tasks
Create awareness
Unearth the truth
Discover your heart's desires
Uncover your soul's needs
Delete what is draining your energy
Release pain
Choose where to put your focus
Filter out reactionary actions
Seal a vow between your heart and your mind
Create a vision
Pinpoint what actions are more effective
Take Action
Record moments of self-realization
Create new paths of thought
Promote emotional healing
Remind yourself of new routines until they become habits
Monitor your progress
Stay on track
Create a life you love
So, darling, if you want to go from dreamer to do-er, grab a pen and paper (or sit down to a blank page at your keyboard) and take the swirling fragments in your head and release them into the world.
I have so much faith that you can peel away the layers around your heart and create a life you adore.
[hr]
Not sure where to start? Need a little help uncovering the answers?  Realize you're not quote sure what questions to even ask yourself?
From the 30 Days to Clarity Series: Clearing Brain Clutter: Discovering Your Heart's Desire
Now Available in Paperback
With a collection of 30 intriguing exercises, Clearing Brain Clutter: Discovering Your Heart's Desire helps you to peel away everything that gets in the way of your truest, deepest desires. By doing the work right inside the book, you'll learn to create a life that's more resonant with "the real you" than anything you've previously experienced. In short, you'll forever change your life for the better.
Available on Amazon in Paperback and Kindle .
Or order an inscribed copy from me for $11.95*
*I'll include the shipping
(US Customers Only – please contact me for International Sales as well as discounts for multiple copies)
If you would like multiple copies for gifts or your book club, drop me an email at Debra AT DebraSmouse.Com for a bulk discount.