M y first golf coach, Paul, taught me a heck of a lot more than just golf.   He taught me lessons that I could apply to life.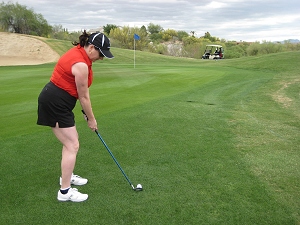 During my career as a consultant, I was often invited to golf outings, but had to decline.  When I was looking at ways to improve my career, I decided golf would be a great skill to add to my resume.  I had been exposed to golf as a kid, tagging along with my father sometimes, but the last golf club I'd used was a wooden driver back in the 80's.   I decided to "do things right" by getting prepared.   I bought "Golf for Dummies".  I purchased a 4-pack of lessons from a PGA Pro at a local golf shop.  I borrowed a set of ladies clubs from a friend.  Then I got even more prepared:  I bought cute clothes and shoes.
I arrived at my first lesson with a mix of excitement and trepidation.  Paul  was everything you need in a coach:  he taught me the fundamentals, had positive solutions to some worries, and approached our lessons with a sense of humor.   At the end of my first lesson, he did something frightening:  he suggested I play a few rounds of golf before our next lesson.
I couldn't believe it:  I had had one lesson and he actually wanted me to go out and play?
On my way home, I came up with all kinds of excuses.   What if I couldn't find my ball after I hit it? What if I looked like an imposter out there?  What if I played so badly, my friends wouldn't want to play with me any longer?   What if I played so slowly that the players behind me stacked up or complained?  What if I played so badly, that I lost every single ball before I made it to the second hole?  What if I looked so stupid playing, that the other players on the course made fun of me?
I eventually went to the driving range, hit a bucket of balls, and then went home.  I reasoned with myself that it was close to playing.  Right?  Besides, I could play a real round of golf after I had completed all four of my lessons.
When I arrived for my second lesson, Paul immediately asked me how I had played.   My answer didn't surprise me, but throughout my lesson, he got me to talk about two things:  my goals for playing golf and my fears surrounding it.  Towards the end of my lesson  he told me:  "Debra.  Not another lesson with me until you've been out to play a few rounds on the course."    I couldn't believe it.   I was paying him for lessons and was going to hold me accountable to my goals?
When I protested with the "What if I play so badly that the players behind me complain" he said something I'll never forget:  "You have just as much right being there as anyone else."
Two days later, I went to the golf course with a friend to play:  and I was hooked.  Yes, all my fears were still in the back of my mind, but I had an answer for every argument.  I set out with one big goal: to have fun.  After those first nine-holes, I was hooked.
My experience with Paul and my first round of golf taught me these lessons:
Get a mentor or coach that will give you positive feedback while holding you accountable.
Excuses are a way to keep you stuck.   You can make excuses or you can use your  power to turn the excuses around to a new avenue.
Get clear about your goals.  I got crystal clear that I had two goals for playing golf:  learn a new skill and enjoy it.
Prepare yourself in small ways. I read about golf, purchased the tools I needed to play, and slowly built some confidence with the knowledge and tools.
Dress the part.  This will give you confidence.
Don't over think it.   Your mind will try to draw you back to the excuses so you don't have to change.  As Nike says, Just DO IT.
Engage fully.  Don't half-ass it by just going to the driving range; go out on the course and play.
Immerse yourself in the moment. If you get stuck in your thoughts, go to your senses:  listen to the sounds of nature, smell the fresh cut grass, and feel the sun on your face.
Be kind to yourself during the process.  When you begin to change, it may seem hard at first.  Remember:  you don't have to be perfect.
Enjoy the journey and allow yourself to have fun.
As Dale Carnegie once said:  "Inaction breeds doubt and fear. Action breeds confidence and courage. If you want to conquer fear, do not sit home and think about it. Go out and get busy. "
Don't let fear and excuses rob you of the joyful adventure of life.  Need a coach to help you step out of fear and into your life?  Click here to get in touch.  The first half hour is on me!