No matter what is happening in the world, I know that one of the biggest challenges I — and you — face is stepping away from the siren call of "busy". And since I know that confession is (often) good for the soul, here goes: I haven't been writing much lately. Yes, I'm still writing a weekly piece for this space and a weekly love note to those on my list, but I've been telling myself that I don't have time to really dive into my novel. That I'm too busy with other tasks. But the truth is: I need to get off the merry go round.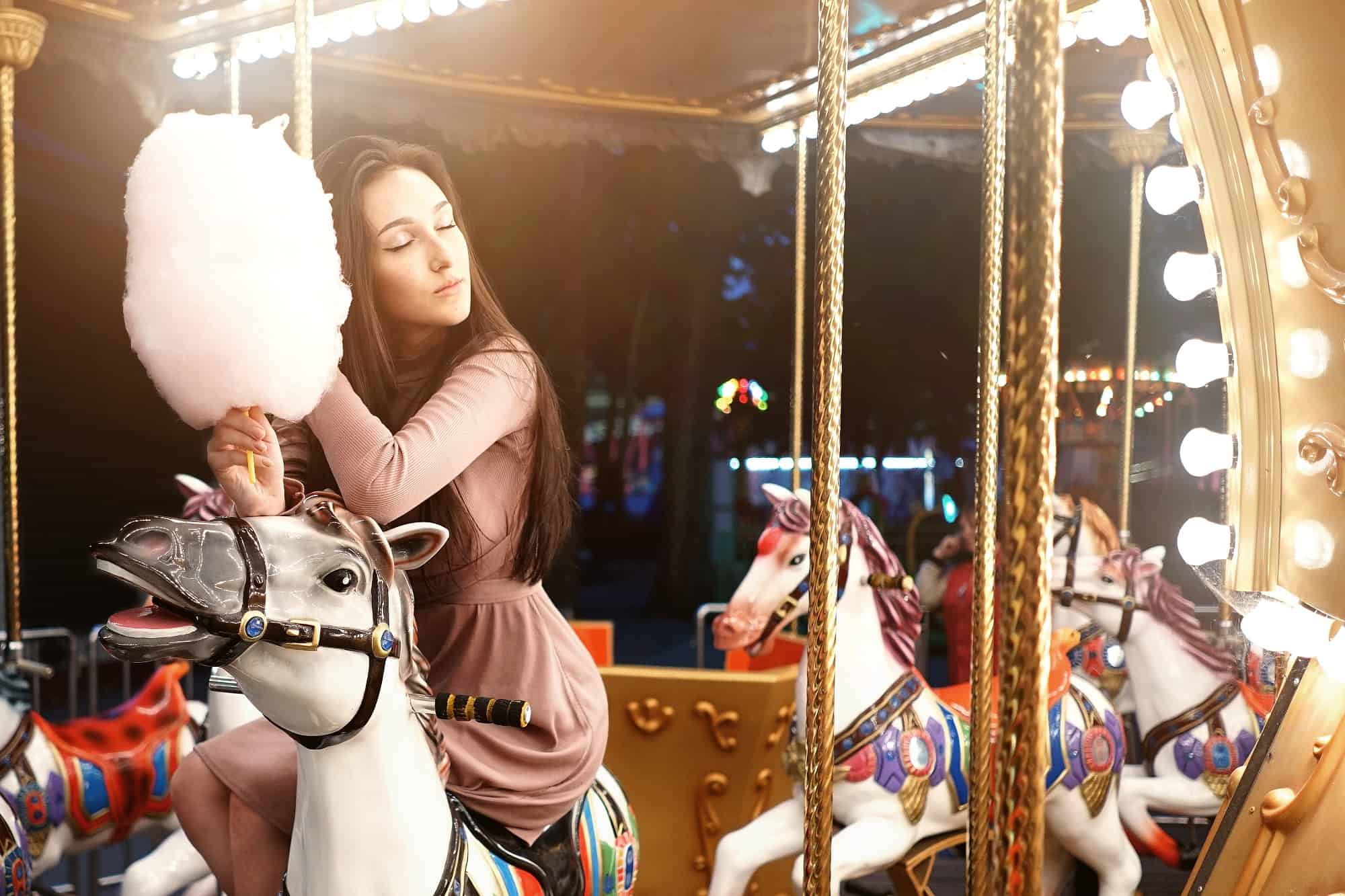 It's not hard for me to get caught in the cycle. I hop on and spin around and tell myself that I'm too busy to get off and get stuff done. And I don't want to get off, no matter how tired I am, because busy is addictive. But it's also exhausting, stressful, and keeping me from what I'm passionate about. So, here's what I'm going to do to hop off the merry go round of too much to do and too little time.  I invite you to play along with me with these five steps.
One – Get off the merry go round by not using "busy" as a badge of honor.

Decisions are powerful, my darling. When you decide you will no longer use "busy" as a badge of honor, you'll be well on your way to hopping off that merry go round.
And can we be honest here? Being busy is addictive because getting stuff done makes us feel good. Our productivity becomes our measure of worth. You must make peace with the fact that you are worthy of being loved and accepted for exactly who you are, no matter how much you accomplish. You don't need to prove your worth and earn love through being busy. Love is your birthright.
Two – Get off the merry go round by clarifying your desires.

Sometimes, darling, we stay stuck on the merry go round because we don't really know what we want. So, we become convinced that everything is important. But if we want to get off the merry go round, we need to get clear on what our real desires are — and knowing what we want also means we know what we don't want.
Maybe it's time to put your goals on paper. Sit down and write down what you want to accomplish and how you're going to do it. When we commit to writing down our goals, we're more likely to follow through. And when we're clear on what we want and how we're going to get it, it's a lot easier for us to get off the merry go round.
Three – Get off the merry go round by knowing why you want what you do.

It's hard to stay motivated when you don't know why you're doing what you're doing, kitten. And it's easy to hop back on the merry go round when our goals don't match up with the deeper reasons why we desire them. So, take another look at those goals you wrote down and ask yourself the Five Whys of why you want each one. Remember that a part of that "why" is how you think that desire is going to to help you. And don't be afraid to dig down as deep as you need. Knowing why you want something will help you get off the merry go round and get it, but it only works if you're honest with yourself.
Four  – Get off the merry go round by remembering the three D's.

Now that we know what we want and why we want it, it's time to get some stuff off our plates. First up, delete what you don't need to do — don't waste your energy on things that don't matter! Next, defer anything that can be deferred. This might feel like procrastination, but it isn't the same. Deferring a task is simply saying that you don't have time or energy for this task now and that you're going to save it for when you do.
Last, and perhaps most importantly, delegate things to others. Hire folks to help you and, when you can, allow others in your family to help. Asking a spouse, co-worker, sibling, or acquaintance for help strengthen your connection and builds intimacy and trust between the two of you. You have more time and energy to spend loving that person, and your loved one feels like they and their contributions matter to the whole. This is also a good way to let others use their gifts while you learn how to better receive. And it grants those loved ones permission to ask you for help too instead of struggling alone. So, darling, don't feel like you have to get off the merry go round on your own. Give others the chance to come alongside you by asking for help when you can.
Five  – Get off the merry go round by making your calendar your best friend.

Last but not least, kitten, it's time to take a hard look at your calendar and review the next few months. What's set in stone, and what can you shift if you need to? If you can, consider block scheduling: bulking similar activities into the same time periods. Then you can channel all your energy into one type of task instead of constantly switching from one to another.
In addition to moving around what you can, mark a day on your calendar to take off from all things electronic. Set down your phone, your tablet, and your computer; let email, Facebook, Instagram, Twitter, Periscope, and the rest take care of themselves for twenty-four hours. This break from electronics will help you reconnect to yourself and your loved ones. If you need to start with a half-day, that's fine, but don't cheat yourself by ending that day early!
Finally, check in with yourself on a weekly basis.  I know that taking time out for a review when you're busy feels undoable and frivolous. But stepping back gives you a chance to plan your life instead of reacting to it. And reaction, darling, is one of the things that keeps us on the merry go round.
So, darling, are you ready to get off the merry go round?

It's as simple as that: a shift in perspective, a commitment to your desires, and some solid time management. And, oh, I know that some of these strategies might be difficult at first. But once you follow through and experience life off the merry go round, you'll be amazed by the difference.
[hr]
Want to get off the merry go round?
Would you like to work through these steps with a pro? Get some support from someone who knows what it's like to feel stuck on the merry go round?
Are you seeking practical advice? Someone to talk through potential pitfalls and solutions? Do you desperately need support around your crazy-busy life?
I have limited space for one-on-one clients. You can find details about packages and pricing here.
Drop me an email at: debra AT debrasmouse.com and we'll schedule a call to see if we're a good fit.