Happy First Week of January, my darling.  How are you?
We are officially past the holidays, and the task at hand is to settle back into the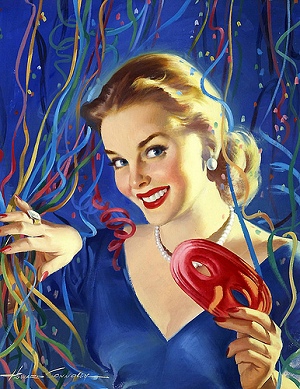 normal rhythm of life after the excitement of the holiday season.
Some of you may welcome the return to routines.  Some of you may be giddy with the excitement of bringing your New Year's focus.  Some of you may be flat out struggling with getting back into the swing of things.  And some of you are already berating yourself for losing your focus and resolve.
First of all, darling, if you are flagellating yourself, put the whip down.  It's impossible for love and courage to occupy the same space as fear and castigation.
I know that the reality of life makes those New Year's dreams seem impossible, but baby, let me tell you, that just isn't true.
For years, I made New Year's resolutions and big goals that never went beyond January. I was intelligent, had the desire, but I often felt stuck and unproductive.  I would berate myself for not having enough willpower and be all kinds of mean to myself for not making progress.
That changed when I realized that, while I had deep desires, what I was lacking to achieve those goals was a process to help me stay on track. Since then, I've put together a personal tool box – a collection of techniques and tasks to help me stay on my right path. Have a look inside it:
Fresh Start
First of all, every day is an opportunity to begin fresh.  You can adjust your focus, change your words of the year, get back on path and rededicate yourself to your desires any day.
Embrace Structure
Don't underestimate how supportive nourishing routines can be.  While they may seem restrictive, routines are actually about freedom.  Routines help you manage your energy effectively so that you can channel it towards your real desires and purpose.  Routines fuel your day and nourish your spirit.
Add Review
A weekly review allows you to really sharpen your intuitive focus so that the things that really matter to you don't fall away in the busy-ness.   It lets you to see where you've been and where you're heading. A weekly review is one of the keys to staying on top of projects and assignments while helping keep you on track for your goals.
Delete Something
Let me tell you darling, the more "to dos" you try to squeeze into your day the less you actually get done.    So this week, eliminate just one thing from your to do list that you don't delight in. Give yourself plenty of white space so that you can breathe.
You Have Permission
Write yourself a permission slip to forgive yourself for not being perfect.  Those imperfections that you perceive as flaws  are what make you, well, so wonderfully you. Remember that you are allowed to change the plans and the rules you set for your life.  It's your life, and nothing is written in stone.
Clear Your Spaces
Everything your world has energy, and this includes your physical space. Clear that pile of magazines off the coffee table, remove all the clothes in your closet that you don't love, and get rid of all the knick knacks that are gathering dust.   If you don't love it, chunk it.
Horse Around
When you are feeling overwhelmed or uninspired, release your inner child and play around. Jump rope, grab some crayons and draw a picture, play backgammon with your partner or crank up the music and dance around the house. When you don't include regular non-work play in your world, it's bad for your well-being, and can actually lead to stress, fatigue, and depression.
Eat Proper Meals (& Hydrate)
Take a few moments to plan your meals so that you aren't tempted to eat drive-through meals.  Instead of eating,  dine. Sit at a table with plates and real silverware. Drink water.  You cannot thrive if you fuel your body with high-fat, high-sodium foods.
Sleep It Off
The fact is this: you need to get more sleep.  In the fast-paced lives that we live, we often forgo sleep in an attempt to get caught up.
I know it will be challenging at first. Your mind will begin to list the bazillion things that need to be done before bed. But instead of listening to your mind, you need to listen to your body.
[hr]
I have faith that you can embody and achieve your biggest dreams.  You just need a few tools to help preserve your passion!  And  I'm here to help in any way I can.
What about YOU?  What tools do you use to help you preserve that New Year's energy and focus?  How do you stay on track?