She conspiratorially leaned into me over a recent lunch "I never knew how great a red bra and matching undies could make me feel." She was seventy before she purchased a bra that wasn't white or black and had discovered a whole new sense of confidence when she listened to my advice while shopping several months earlier: invest in yourself and upgrade your undies.
It was late fall and we were shopping for new lingerie when I confessed my sheer love of beautiful lace bras and how investing in matching panties made me feel confident, sexy, and alive.
In one hand, she had her standby, a serviceable white bra.Then I handed her a turquoise blue bra trimmed in delicate lace along with the beautiful silky and lace undies. After that first experience with non-traditional colors, she found herself hooked on how it made her feel.
At our last book club meeting, she confessed to going wild when she stumbled upon a clearance sale: red, purple, and royal blue bras for under $10. All in her hard to fit size and all with matching undies just waiting to fill her lingerie drawer.
I think it's always a great time to upgrade your undies, but I also know if it's done in the spirit of Spring Cleaning, it can feel all the more empowering.
Look: I'm not trying pry into your personal business here, darling, but when was the last time you chose to upgrade your undies? Yes, I'm talking about purging your underwear drawer. Well, not just your underwear, but all your foundational garments: underwear and bras for the ladies, briefs and undershirts for the gentlemen, and socks for men, women, and children.
When the folks at Tommy John asked if I'd be interested in some nifty graphics for my readers about the life cycle of essential undergarments along with a graphic to help decide what can stay in your underwear drawer…and what needs to go, it reminded me how much I love encouraging folks to "Upgrade Your Undies" and invest in making yourself feel powerful, pulled together, and more confident.
And no, I am not being paid to write this and any links you click on are not affiliate links.  In fact, this will be an extra blog post that I'm writing for the sheer fun and joy of reminding you – and myself – that what you wear under your clothes matters.
Though it may not seem important on the surface, lingerie is powerful stuff! Every day you should wear foundational garments that are in good condition and fit you well.  I know – only you and possibly your spouse see it.  But.  If you always make sure that your foundational garments are nice, you will feel better about yourself all day long.
As proven by my seventy-year-old girlfriend.
I mean – seriously:  who wants to fight a run in your stockings, a hole in your socks, or underwear that is creeping up your you-know-what? This week, make it your mission to take a good hard look at all your foundational garments:  underwear, socks, pantyhose, bras, undershirts, etc.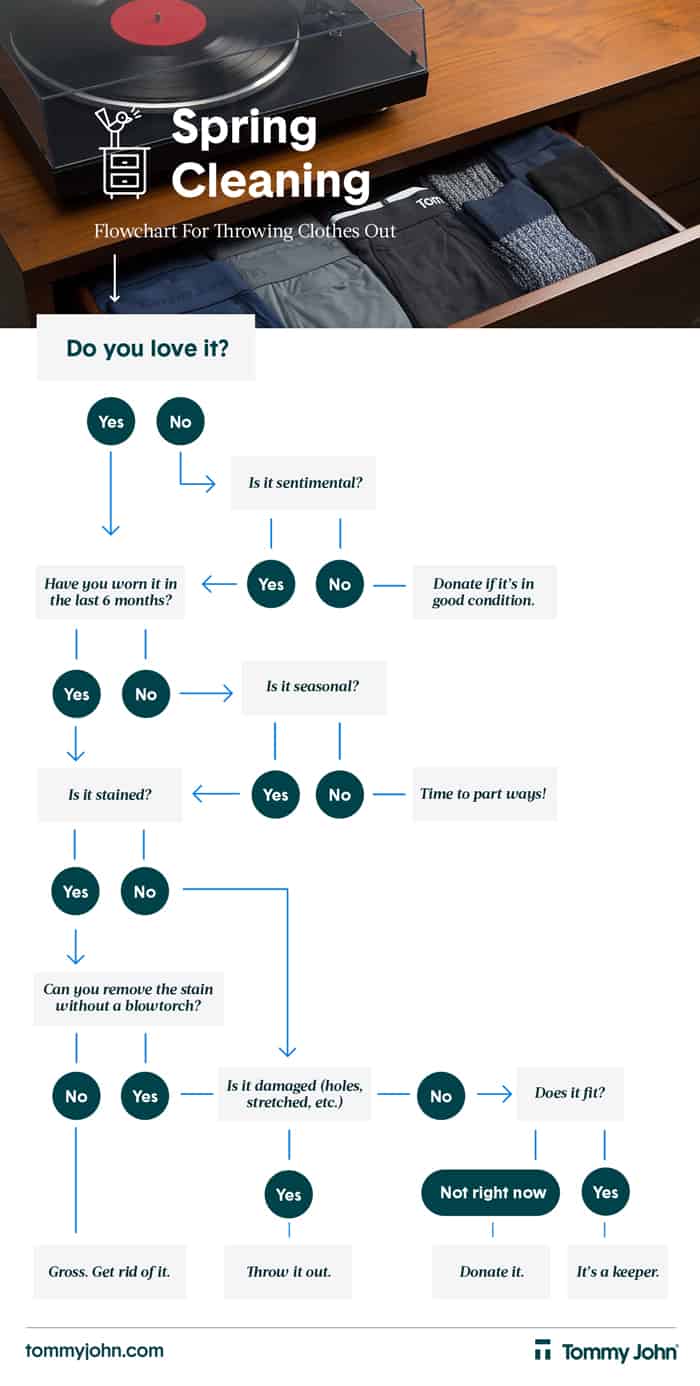 Begin By Spring Cleaning Your Drawers
I know it's hard to part with a favorite shirt. Or that super comfy bra. But isn't it time to upgrade your undies? Isn't it time to invest in yourself?
Dump out the drawer containing your underwear onto your beautifully made bed.  (You do make your bed every day, right? Because it's super nice to have a flat surface to work on when you are decluttering!)  If it has holes, the elastic's shot, it doesn't fit, or is uncomfortable:  TOSS IT.  Then neatly fold everything that passes muster and put it back in the drawer.
Dump out your sock drawer.  If the sock is orphaned, has holes or otherwise isn't comfortable to wear:  toss it.  If you wear trouser socks, knee-his, or panty hose: examine them.  Runs?  Toss them.  Elastic Shot (or too tight):  toss them.  Then neatly match/fold your remaining socks and stockings.
Repeat this process with undershirts, bras, camisoles, etc.
Not sure about what to keep and toss? Refer to the flow chart above! And yes, even if it's in good shape but doesn't fit? Please toss it because you deserve the pleasure of well-fitting underwear and bras.
By the way, please consider doing this activity for those you love. When it comes to love nuggets, ensuring that your partner (or child) has nice undies is a loving act of service.
How to Upgrade Your Undies
I know this decluttering may mean that you'll need to invest in new panties, bras, or socks – but let me tell you something: you deserve to have the best foundation for every day. Here are some things to consider:
Do you have all the right undergarments for all the activities you participate in? This means appropriate underthings for the office, for going out, and for sports.
What is the right bra size for you? Ladies, you should get fitted at least once a year. And always after weight gain, weight loss, birth of a child, etc.
What styles do you like? For men, do you like regular briefs, boxer briefs, or boxers? (I'm partial to these boxer briefs for JB). What about undershirts? You may need both crew neck and v-neck undershirts. Ladies, do you have a good t shirt bra as well as one to work out in? Remember, too, that one bra does not work for every single outfit.
What fabrics do you like? Cotton? Lace? Silk?
What colors make you feel powerful? What makes you feel sexy or just excited to be alive?
Do you have matching underwear for your bras? My personal rule of thumb is three pair of panties for each bra in a matching – or coordinating – fabric.
What makes you feel confident?
Do you have enough underwear to last the week? No one wants to do laundry every day! This usually means at least seven pairs of underwear and three bras, because no, you shouldn't wear the same bra two days in a row.
I know budget matters, but do invest in the best quality undergarments your budget allows. Shop sales, sign up for frequent buyer plans, and buy multiples from online retailers. I regularly watch clearance sales of my favorite brands.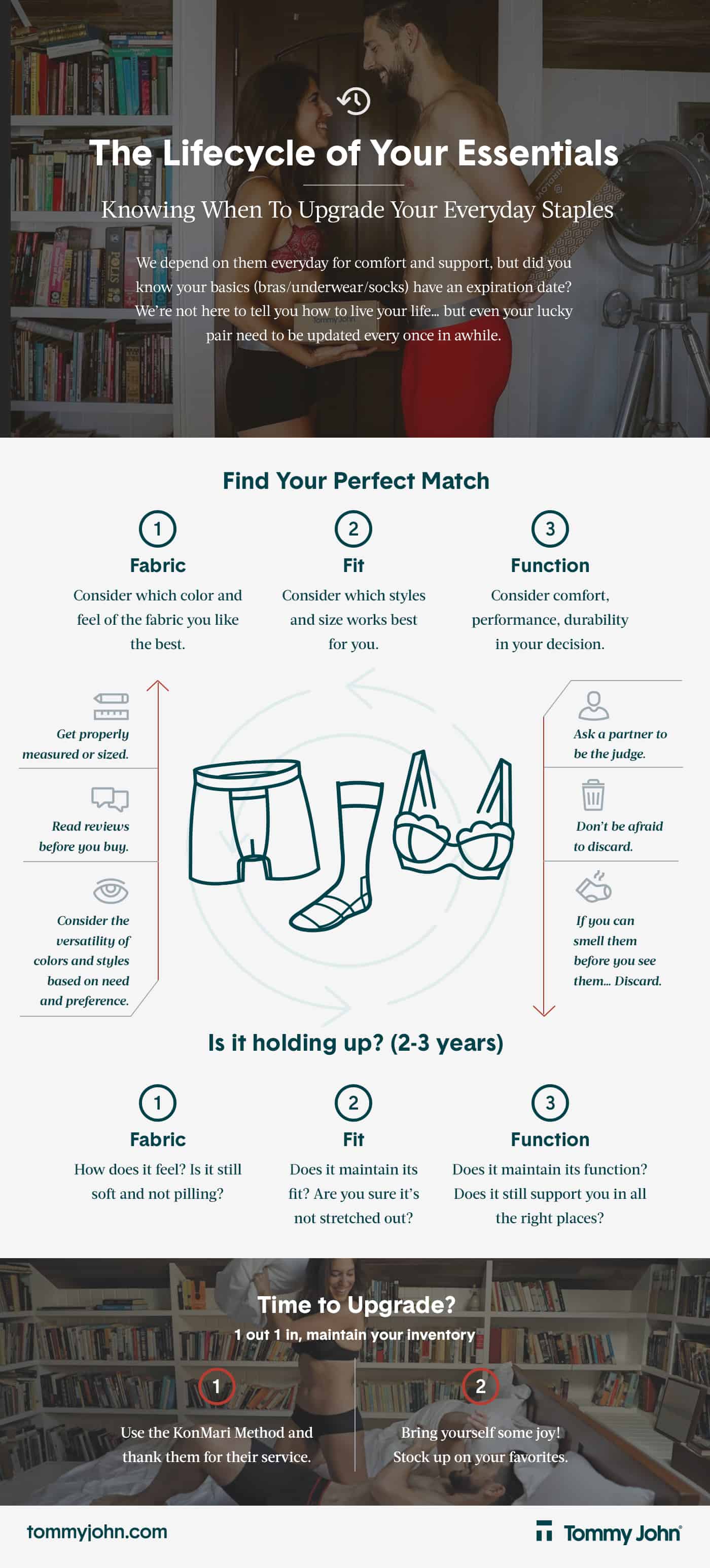 I love being able to combine two powerful activities: clearing clutter and investing in great undies. And one more thing: choose to see the investment in a foundational wardrobe as part of the investment in the quality of your daily life. There's a disconnect in your brain if you save your pretty things exclusively for special occasions. (It's like telling yourself that you only deserve to feel fantastic once in a while.)
What you think about yourself extends into how the world sees you, so set yourself up for success by upgrading your undies.
---
Want to not only upgrade your undies, but clear the excess from all your drawers and closets?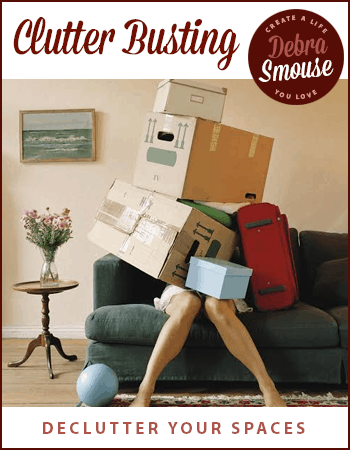 One of the biggest lessons I have learned is that you cannot welcome new things into your life if you don't release some of the old stuff. You need to begin to purge things from your life. Getting clear in your life by dealing with your physical clutter (big clutter and small clutter) will allow you to direct your precious energy towards creating the clear path to living your best possible life.
2019 Course Dates:
Hello, New Year: Beginning Sunday, January 06, 2019
Welcoming Spring: Beginning Sunday, April 14, 2019
Before the Holidays: Beginning Sunday, October 20, 2019
Course Investment: $21.
Purchase Clutter Busting Email Course
(Note: As of 2018, this course is lifetime access. That means, you're IN at no additional cost anytime the class runs.)