S ince I know that confession is (often) good for the soul, here goes:  I haven't been writing much lately. Yes, I'm still writing a weekly piece for this space.  Yes, I'm still sending a weekly love note to those on my list. But I've been telling myself I don't have time to really dive into the writing.  So I avoid it.  I procrastinate.  I find ways to distract myself.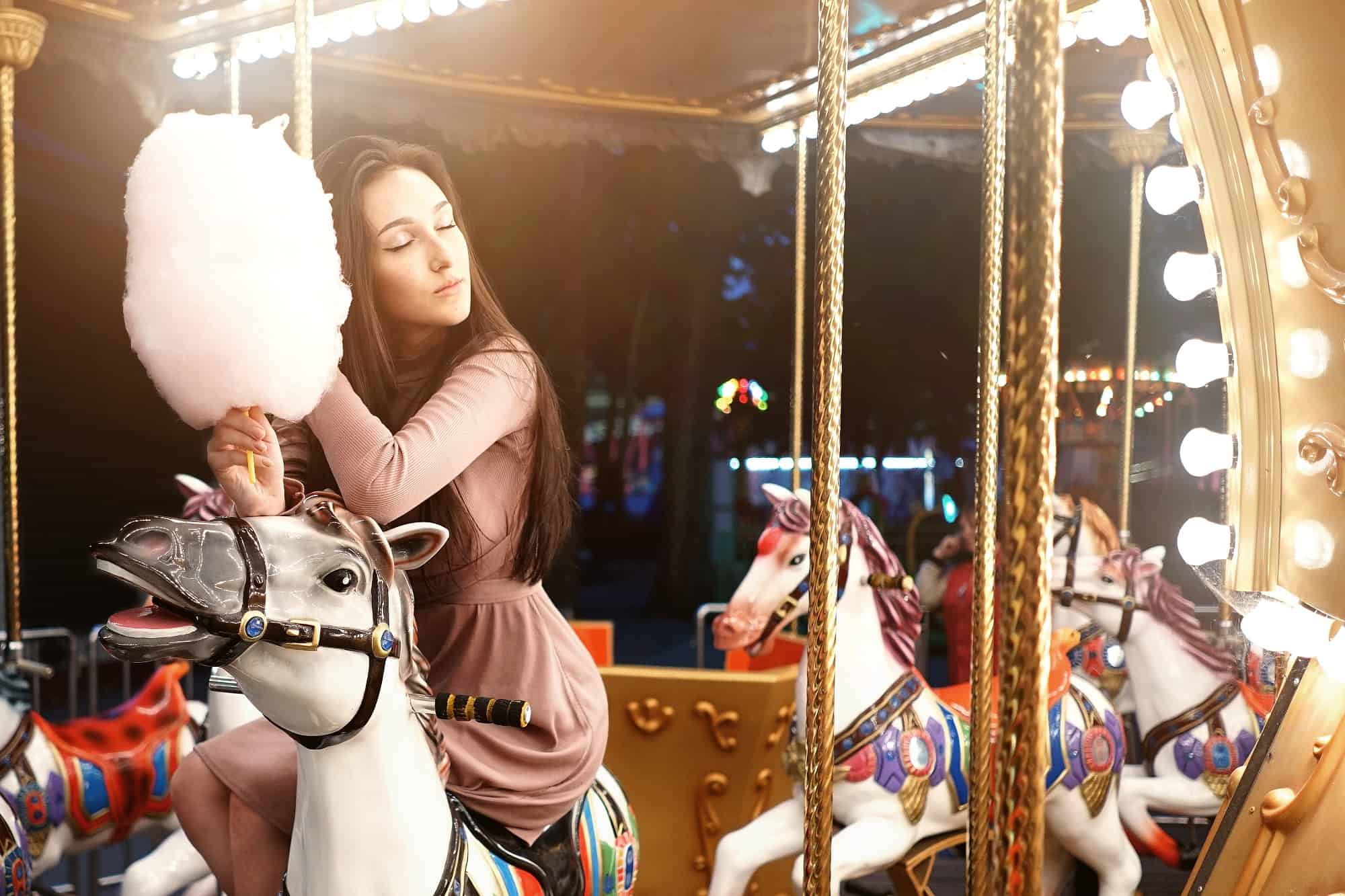 But let me tell you something, baby!  My office is super organized.  My closet is in spectacular shape. I went shopping this week and found two new suits and some new jewelry.   And the files on my computer have been recently shifted around to proper folders.
But the truth is, I'm on a Merry Go Round.  I hop on and spin around and tell myself that I don't have time to hop off and get stuff done. When to be totally truthful with you, kitten:  I'm not taking advantage of the opportunity to hop off when there are these slivers of time in my day.
Today, while I was doing my Weekly Review, I realized that though I've been doing the review and the planning part, I haven't done a fresh "brain dump" in ages.
So, here's what I'm going to do to get off this little Merry Go Round of being "too busy".  I invite you to play along with me with these five steps.
One – Do a Brain Dump
Do you want to learn a new language? Begin a writing or photography practice?  Clear the clutter from your attic?  Take time to meditate?
Doing a brain dump allows you to get all those "things" out and onto paper.  Because, baby, our minds are meant to have ideas, not hold them.  Set your timer for five minutes and get to writing!  Write down  all of the things you desire to do, all the things you want to be, and all those projects you want to complete.
Two – Create a Big Old List
Here's the deal, kitten:  when we don't define our priorities, it's easy to blow off those small windows of time.  Twenty-minutes can either be piddled away or it can be embraced.
After the brain dump, you'll have this  rich list of desires and dreams.   The next step is to cull that dream list into a list of things you want to do in the next year .  This is defining your priorities.  When you define your priorities, you are marrying up your heart's desires with that fabulous brain of yours.
So, create a Big Old List to work from.  I promise you will be glad you did.
Three – Choose One Thing
Seriously, choose just one thing from the list and this is going to be The Thing You Complete by the end of the month.  It doesn't matter what it is, just choose something that excites you.
Then, break it down into bite sized chunks.  What elements could be completed in 20 minutes here, 30 minutes there?  A quick bit of research?  Choosing one limited area of the garage?  Challenging yourself to write the first draft of an article in 30 minutes just for fun? A 10 minute centering meditation?
Write down those action steps.
Four  – Listen to Nike: Just Do It!
Let's pretend that it's 10 AM on Monday and you have to leave for a meeting at 10:30.  You could hit "refresh" on your email or peek at Facebook.  And that thirty minutes can disappear like ice on a hot day.  Or you can set your timer and challenge yourself to make even a tiny little bit of progress on the priority you wrote down.
This will feel like a challenge at first, but you will discover that even though it's a small step, it's actually a giant leap for your mind.
Why, you may ask me, darling?  Because you are asking yourself to shift an old habit. 
But what this does is begin to forge new habits in your brain.  By choosing to hone your focus, you are honoring your priorities instead of frittering away your time! You are seizing small moments in time and making them count.  Then, baby, when you have a big window of time, you won't procrastinate or avoid.  You'll dive in with gusto.
Five  – Give It a Deadline
If you really want to get something done, give it a deadline.
Promise someone it will be on their doorstep. Plan a luncheon with your closest gal pal and show off your newly organized garage.
This is why Mastermind Groups and Coaches make a difference.
As for me, I began today.  When JB texted me he was on his way home from work, I wrote a down and dirty draft of this blog post during the 25 minutes it took him to drive home.  And while he checked his personal email, I did a final sweep of the piece, formatted it and posted it.
No, it's not progress on my novel, but it reminded me that I am capable of hopping off the merry-go-round and completing stuff.  
And, darling, so are you!
So, what about you, baby?  What would happen if you hopped off the merry go round and really took advantage of those small windows of time?  What could you create and complete? 
I'd love to hear all about it!