The last couple of weeks, I've written about seeing your life as a ship.  In order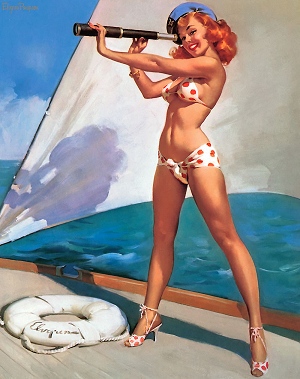 to live the life of your dreams – the life you were meant to live – you lovingly and joyfully create a compass to guide you.  Though there are four points on a compass, this compass is made up of three parts.
Today, I want to talk about this third and very critical part, without which your compass can never fully assist you on your journey.
Look at building your ship this way:
Your rudder represents your personal values, and guides the direction of your life.  There is tremendous power in discovering and living according to our highest values, and experiencing inner peace as the natural consequence.
 Your anchor is how you want to feel.  The quiet whispers of your heart's desires define that anchor.
Now your ship needs some assistance.  You need the anchor's presence  to ground you.  You need your rudder's direction to chart your course.  But no matter where your ship goes, but in order to journey the oceans your ship needs power.
To experience the best journey of your life, you are going to have to hoist your sails.
 Your sails are ACTION.
You can dream big.  You can create soulful intentions.  You can lay solid goals with milestones.  But unless you take action, you'll never realize your dreams, intentions or goals. 
(If this sounds familiar, it's because I gave you a big hint last week when I shared that you get clear about how you want to feel and then you begin doing things that make you feel that way.)
Yes, my dear, there is a very important component to living the life of your dreams…
Actually living.
You can create novels and symphonies in your head, but until you put pen to paper and record them, you're not a writer nor a composer.  You're a dreamer.    Don't get me wrong.  I love dreaming.  I'm a huge fan of day dreams.  I applaud you being a dreamer.
But I want you to achieve your dreams, and you aren't going to be able to do that unless you take action.
I'm well versed at being the writer who only dreams of writing and I'm so happy to tell you that I've completed my eBook Three Steps to Sailing Into Your Best Year: Creating Your 2012 Compass.  I've written hundreds of blog posts, essays and short stories in my lifetime.  I've completed big chunks of two different novels.
This is the first time I've completed a soul-centered – wholehearted, living book that I know I was meant to write.
This creation of my eBook was me – seizing the power of my purpose in life.  This was me stopping the cycle of writing only in my head.  I rose out of a creative storm of ideas, wrote a single blog post about viewing life from the top of the mast, and continued to write and build upon creating a powerful eBook.  One tiny piece at a time.
Actions don't have to be huge acts, though they can be.  You can take baby steps by taking small, deliberate actions.  You can simply lean into and gently steer yourself toward the direction. Leaning and steering are powerful actions.

In my new eBook:  Three Steps to Sailing Into Your Best Year: Creating Your 2012 Compass the next step in creating your compass is Hoisting Your Sails: Rooting Out and Defining Your Power .
I know how scary it can be to take action.
It can be downright paralyzing.
The lizard brain begs you to be content with dreaming, because change can propel us into unknown territory.  Part Three: Hoisting Your Sails is a guidebook for helping you to overcome being paralyzed by rooting out and defining the powerful actions you want to take in your amazing and beautiful life.
I have faith in you.
I have faith that you will seize the exquisite power  of action as you  step into your dharma.
I know that you can take your sails from storage, hoist them, and let the ship of your life sail into the most amazing year of your life.
In order to celebrate the power of completion, taking action, and embracing the beautiful power of my dharma,  I've decided to release not just Part Three of the eBook, but all of it.  Yes, you can get 100% of Three Steps to Sailing Into Your Best Year: Creating Your 2012 Compass today.   It includes:
Part One: Naming Your Rudder: Clarifying Your Value
Part Two: Dropping Your Anchor: Getting Clear About How You Want to Feel
Part Three: Hoisting Your Sails: Rooting Out and Defining Your Power
Part Four:  Creating Your Compass: Three Little Words for 2012
Next week, I'll write about how powerful "three little words" can be to you as your 2012 Compass.  I'll also share with you my personal compass for 2012.
I had originally intended to release each part of the book on a different week. But I want you to have every possible tool at hand to help you set course for making 2012 you best year yet before Christmas.
What about you? 
What actions do you want to take?  What's holding you back?
What can I do to be the wind as you hoist your sails?
Much love,
Debra
PS – This is the week of Christmas as well as Chanukah.  I want to wish the best of the season to you and those you love.
PSS – Initial reviews of Three Steps to Sailing Into Your Best Year: Creating Your 2012 Compass call this eBook/eCourse/eWorkbook  "powerful and effective", "fantastic", "warm and inviting.  I've been told it should be priced at $25.  There are three ways to get your very own copy.
One:  As a holiday gift to my subscribers, this powerful tool is available complimentary for a limited time.  Simply go here to subscribe and upon confirmation, you will be emailed a link to download all the parts of the eBook.
Two:  Purchase the book here at a discounted holiday rate of $15.00.
Three: Purchase a Year of Support and Accountability with a Compass Coaching Plan.   I've designed three custom Compass Coaching Plans to take your work to the next level.