Merry Christmas, darling.  I know that by the time you read this, the stockings have been emptied, the latkes of Hanukkah are a memory and the breakfast casseroles have been reduced to crumbs. So many warm holiday wishes no matter when you're reading this.
As I write this, I have a turkey breast in the oven and the cornbread dressing and overnight potatoes are nestled in the fridge awaiting their turn alongside the turkey.  I was craving traditional Southern foods this year. Our holiday celebration is on the low-key side: just the two of us at home, enjoying good food and indulging in extra rest, wine by the fire, and watching favorite holiday movies.
For me, the holidays aren't over until we reach Epiphany – the 12th day of Christmas where Christians mark the visit of the Wise Men.
While I may not follow all traditions to the "T",  keeping the "12 Days of Christmas" allows me to enjoy my trees, holiday linens and  some of the other trimmings of the holidays beyond the culmination of Christmas morning.
To be honest, darling, I'm sending your holiday wishes because you've been on my mind.  I'm hoping that you've focused on gratitude and found peace in your heart no matter what holiday you call yours.  And that you discovered the just right balance of the traditions of your past as you marry those to the beliefs that feel right to your soul these days.
I'm hoping that you were able to give yourself some special gifts this holiday season.  While I'm a big fan of small luxuries, sumptuous lingerie, delectable perfumes, and beautiful shoes as perfect "celebrate me" presents.
Here are some gifts that only you can give yourself:
That if you're struggling, you've been willing to brave enough to hold out a hand and ask for a little help. Be willing to take a leap of faith towards the life you've always desired.
That if you are mired inside a funk, that you've explored ways to help pull you out.  You deserve tools and tricks that will help you armor your heart and soul. Life is too short to be full of worry and stress.
That you've made the decision to release a piece of emotional baggage that is dragging down your soul. Darling, life is short, and hanging onto grudges and painful stories does nothing but drag you down.
That you are allowing rituals into your life and are making the decision to stop existing and begin falling in love with your life.
If you haven't given yourself a gift yet, baby cakes, there is still time.  You see, every day you have the opportunity to start fresh. To rededicate yourself to loving your life. To let go of the struggles and the inner critic.
As part of sending you these holiday wishes, I'm going to suggest you choose a Word of the Year for next year to guide you.
'm a big fan of the holidays and like having a loose plan.  But one of the lessons I've learned is that you don't have to be a slave to the calendar.  When the New Year rolls around, I choose a focus for the coming year to guide me.
Darling, you have a right to step towards what delights you.  You deserve to be happy.   You also deserve to be head-over-heels in love with your life.  I'm sending you so very much love on this Christmas night.
May the love and peace of the season be with you every day. And if there' something I can do to help you, darling: don't hesitate to reach out to me…
---
Would you like a guide to help you choose a word of the year for your 2022 Touchstone?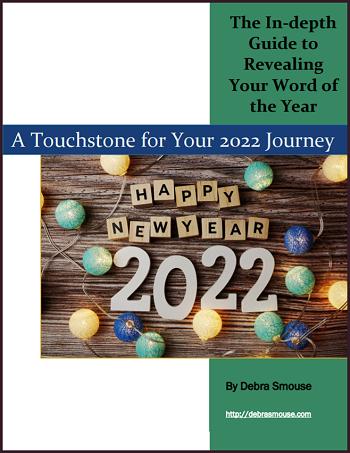 Here's what you'll find in A Touchstone For Your 2022 Journey: The In-Depth Guide to Revealing Your Word of the Year.
In Part One, you'll take a look back as you Bid Farewell to 2021.
You're invited to look ahead to 2022 and begin to breathe life into your desires as you explore Part Two.
In Part Three, you'll review a list of more than 1000 words and begin pondering what Word (or words) is right for YOU in 2022.
To help you gain clarity, Part Four provides you with a series of tools to help you gain clarity around the best Word to serve as a touchstone to serve as your companion through your journey in 2022.
In Part Five, you'll Declare Your Word (or Words) of 2022.
I've also added two Bonus section to help you you create a more nourishing year.
Bonus One explores Ways to Work with Your Word of the Year. This section suggests a dozen ways to help seal your Word…and more than a dozen journal prompts to continue to check-in with your Word throughout 2022.
Bonus Two is an invitation to dive into your emotions. There, I'll share how you can use your emotions for good. And as a path and process for creating days that are more nourished. And satisfying.
Get your FREE Copy of this powerful workbook: A Touchstone For Your 2022 Journey: The In-Depth Guide to Revealing Your Word of the Year.