I hear from women all the time who are under such constant stress and strain that they are flirting on the edges of burnout. They are managing family responsibilities, work tasks, and have so little white space in their lives that they have lost sight of who they are. Yet, when they finally get a moment to catch their breath and asked what they really want and need, their own answers surprise them. Because despite all their big dreams and goals, what they most want sounds like overly ordinary desire.
What I mean by this is that rather than wanting to achieve big goals, they long for the bandwidth the rest and relax. Comparing themselves to others leads to feeling like they aren't living up to their potential.
Our modern society says we need to hustle and dream big rather than make goals that seem to pursue ordinary desires.
Tending the growth of children and being "just" a mom means you have no goals.
Desiring peace and comfort in your daily life means you aren't living up to your potential.
Wanting comfort always means you aren't willing to get uncomfortable.
Being a homemaker isn't enough. You have to volunteer and be working on your art if you want others to see you as worthy.
Wanting to write to explore who you are isn't good enough. You need a platform. You need to work on a book. You need to appeal to the masses.
Enjoying your job isn't enough. You have to be an entrepreneur or you aren't living up to your potential.
Feeling fit and enjoying your workouts isn't enough. You have to get Cross Fit. You have to train for a race. Otherwise, you're playing small.
When they start to dig into what they really WANT and desire in their life, they begin to believe that those ordinary desires hold no value.
The year 2010 was filled with more changes than most folks would ever desire in a decade, let alone a single year.
One of my biggest contracts ended early, which necessitated a career shift in February. I was no longer in the role of daily parenting. My mother was diagnosed with cancer. I met a man in April who made me feel. I often ran from the changes around me (and my feelings) by burying myself in work and travel. I began to fall in love. My mother died just twelve weeks after her diagnosis.
The man of my dreams took a new job and moved from my favorite city (DC) to the Midwest. During our time together (for the first time in a decade) I could see a possibility for a real life. I finally admitted to myself I'd been living a shadow life for years. I listened to my heart and took a chance on love. I began writing again. I shifted my career for a second time in September. By the end of that year, I sold my home of twenty-two years and moved to Ohio to create a new life with him.
My word for 2010 was "faith" and it came to be important to listen to love and faith over fear.
When 2011 rolled around, my life looked nothing like it had twelve months earlier. I was ready for stability. I wanted to let life slow down. I longed to create new routines. I desired comfort and simplicity. I wanted to settle into the new me I had become. I needed to get clear about who I was now, and what roles I wanted to play in this life.
I turned down a couple of opportunities that, frankly, the person I was just twelve months earlier would have snagged. One was the offer of a small contract (that would have required that I live out of a suitcase again). The other was the offer to participate in a mastermind program with women I adored.
My client that offered the small contract? They totally got why I turned down the work.
The person putting the mastermind together? She told me that if I was choosing comfort, then I was choosing to stay small.
That one conversation shook my confidence. I dug back in around all my soft spots and wondered if comfort always equaled playing small. I meditated and prayed. I began working with a new coach to help me ferret out any blindness I had, or stories I was telling myself.
I realized that we are often shamed for our seemingly ordinary desires.
I've also come to really understand that after major shifts and transitions in your life, you need an opportunity to settle into who you are. That means comfort, baby. It's time, darling, to shed the shame of desiring what seems ordinary to the course of living life.
By shedding the shame, we can become enchanted with our lives and besotted with the art of living.
I'm going to be totally frank with you, kitten. It is time to shed the shame of ordinary desire.
It's time to understand that wanting comfort doesn't mean you're playing small. It's time to understand that desiring a peaceful, drama-free life doesn't mean that you aren't working towards bigger goals. It's time to acknowledge that there is value in the activities that some see as ordinary.
It's time to stop feeling shame around wanting to enjoy your coffee and a good book instead of feeling like you're playing small because you're not making gourmet coffee and writing books for others to read.
It's time to stop being shamed for our desires that don't seem big enough to others. No one has to live inside your skin, but you. So, creating goals so others will see you as trying to live bigger is total bullshit.
It's time to stop being shamed for not wanting to follow a specific diet or choosing not to join a specific coaching program.
It's time to stop comparing our insides to others outsides. What if, instead of judging ourselves and others, we choose to walk the path of acceptance?
It's time to really understand that ordinary desires have value. It's time to understand that ordinary desires do not detract from you achieving your potential. It's time to understand that ordinary desires and big, audacious dreams can coexist within the same soul.
What I've come to understand is that ordinary desires are just as important to a quality existence as big dreams. In fact, I would offer up this thought for you to ponder:
You can't grow into who you're meant to be if you find no pleasure in daily living.
Look, darling. My role as a coach is to help people be the best versions of themselves.  To unearth the sassiest and sexiest versions of who they are at their core. To help them see when they are playing small and living in fear. To help them discover what's missing.  To help them recognize their accomplishments. To see when they are actively doing the work and living bigger than they thought possible.
Playing small, you see, is about living in fear. Seeing value in all your desires is about choosing love. Each one of us, in our ordinary, everyday lives, is valuable.  We are worthy of being loved as we are.
It's okay to desire things like comfort and peace. It's okay to long for simplicity. It's okay to need to settle into who you've become as you prepare for your next stage of growth.
We need goals and desires around the act of living our day to day lives. We need to dive into our deepest desires and grow into our potential.
We do both of these things by embracing the power of our daily lives.
By acknowledging the fears and moving through them towards love. By having faith and trusting our intuition. We begin by creating a daily life that we love, so that as we move and grow into bigger, deeper, sexier versions of ourselves, we have a solid foundation on which to stand.
Let's do this together. Let's dive into our desires for ordinary things just as devoutly as we move towards our biggest dreams and goals. Let's shed the shame for ordinary desires so that we can be smitten with who we are at every evolution of being.
---
Are you ready to embrace all your seemingly ordinary desires? A word of the year can help.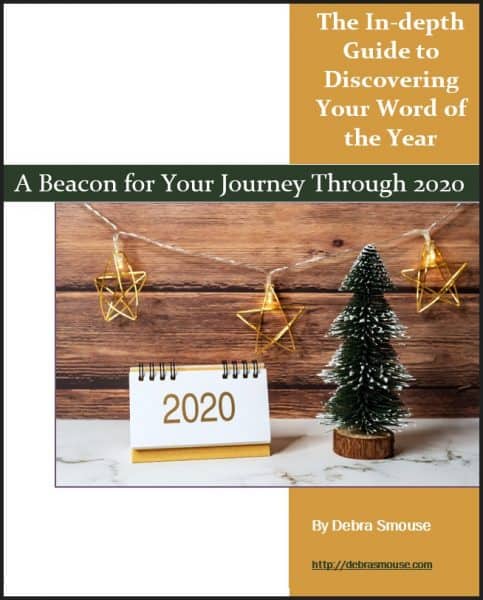 I know that this is a "busy" time of year…yet I also know that if you are here, you desire to have a nourishing daily life. This eBook / workbook is designed to help you with that.
In Part One, you'll review a list of more than 1000 words and begin pondering what Word (or words) is right for YOU in 2020.
Take a look back in Part Two, as you Bid Farewell to 2019.
Look ahead to 2019 in Part Three and begin to breathe life into your desires.
Part Four provides you with a series of tools to help you gain clarity around the best Word to nourish and guide you for your journey through 2020.
In Part Five, you'll Declare Your Word (or Words) of 2020.
I've also added a Bonus: Ways to Work with Your Word of the Year. This section suggests a dozen ways to help seal your Word…and more than a dozen journal prompts to continue to check-in with your Word throughout 2020.
Get your FREE Copy of this powerful workbook: A Beacon for Your Journey Through 2020: The In-depth Guide to Discovering Your Word of the Year.
Never forget that you deserve to create a life you love. I can't wait to hear your Word of the Year for 2020 to guide you on your journey of creating your best year yet.