I have this amazing modular closet, with racks and shelves and a built in clothes hamper.  And I love it.  When we moved in,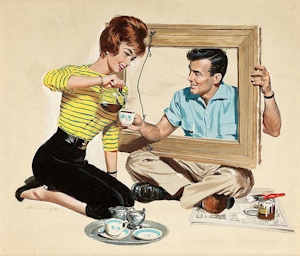 I immediately found a flow for my stuff: dresses on the left, pants on the bottom right, shirts on the top right, folded clothes on the shelves to the left, and shoes and jewelry on the shelves above the hamper.
Earlier this year, however, my closet flow has felt off.   Instead of continuing to just live with the flow issue, I took a step back and got curious around what was feeling "off" for me.
I realized that I had never adjusted shelves to different heights or rearranged the basic location of anything in over two years.  In fact, I moved into the closet with all the shelves in the same exact places that the previous owner had them.
I was trying to mold myself into the space that was set up by someone else.
I changed the placement of some shelves. Completely removed other shelves and have stored them in the basement.  I added some bins to support the folded things. And, I opened up two large spaces, right at eye level.  I created a "dressing table" feel to one of the spaces, and carefully arranged upon it my favorite perfume, a card from JB, a photo of the two of us and other personal mementos.  The other open space holds jewelry and other such stuff in an open and spacious way instead of simply a stash.
I am feeling all kinds loved and supported with layers of peace, contentment and happiness.  All from the act of the rearrangement and re-engineering of my closet.
It flows.  It fits where I am right now in my life.
As I was putting the finishing touches on my new and improved closet spaces, I was thinking about how my closet really represents how we can choose to approach life.
You can try to squeeze all the pieces of your life into shelves that were created by someone else.  Or.  You can re-engineer and re-frame your life in a way that allows you to feel open and loved and supported.  So, where do you begin?  Here are some tips
Easy Isn't Truly Best
Following the path of least resistance feels easy until suddenly it doesn't.  You realize that you've tried to morph yourself and squeeze yourself into a wool sweater and every fiber of your being is rebelling against the itch.
Blaze New Trails
You don't have to create a life based on the way your family or friends live their lives.  It's your life and you get to choose how you want to live it.  Release all of those "shoulds" in your life and begin living life on your terms.
Break the Rules
If the rules are holding you back from being the sexiest, shiniest, most amazing version of who you are, then maybe they're optional.
Releasing the Old You
Each and every day, our bodies are creating new cells to replace the old cells.  On a molecular level, you are changing….and it's ok if other things in your life changes, too.  You can change your attitude, your approach, your hair, your body…. Don't cling to the way you "use to be" in order to make others happy.  And, baby, don't get caught in the comparison trap, either!
Get Crystal Clear
Living your life based on your heart's desires sounds great, but first you need to get crystal clear about what you want.  If you aren't sure, then, baby, clear away what's blocking you. Sometimes, it's physical clutter.  Sometimes, it's brain clutter.   And sometimes, darling, it's about clearing some time on your schedule.
Ask for Help
It's ok to admit you can't do everything.  Even if you can do everything on your own, you don't have to. When I first began working with a coach, I knew I wanted to move forward in my life, but wasn't quite sure where to begin. I wanted to fix everything, only to discover that a better approach was to focus on one area of my life at a time.  When I learned to do that, my life began to move forward at a rapid pace. Focusing on one area actually seeped into the other areas of my life.
Darling, you don't need to mold or squeeze yourself into a life designed for anyone else.  Darling, it's your life.  And you get to write yourself a permission slip to simply be wholly you.  Like me and the closet, you can create, design and frame your world to fit the flow to create a life you love.
[hr]
Do you need some help re-framing your world?
From the 30 Days to Clarity Series: Clearing Brain Clutter: Discovering Your Heart's Desire
Now Available in Paperback
With a collection of 30 intriguing exercises, Clearing Brain Clutter: Discovering Your Heart's Desire helps you to peel away everything that gets in the way of your truest, deepest desires. By doing the work right inside the book, you'll learn to create a life that's more resonant with "the real you" than anything you've previously experienced. In short, you'll forever change your life for the better.
Available on Amazon in Paperback and Kindle .
Or order an inscribed copy from me for $11.95*
*I'll include the shipping
(US Customers Only – please contact me for International Sales as well as discounts for multiple copies)
If you would like multiple copies for gifts or your book club, drop me an email at Debra AT DebraSmouse.Com for a bulk discount.