Once upon a time, I made the mistake of believing that if I surrounded myself with enough stuff, it would make me feel loved, safe or worthy. I couldn't make myself ditch anything!
I had grown up with the lesson that a new book or a new outfit was the solution to sadness.  I tried to soothe the fact that my (then) husband was rarely home by buying knick knacks and linens.  I tried to assuage the ache of loneliness by filling it with sweaters and books.  I showered my kids with over-abundant amounts of videos and toys to cover the fact that their father would rather spend time at the gym than playing with his kids.
Needless to say, the clutter I tried to fill emotional holes with caused additional fights in an already fragile relationship.
I  was exhausted and thought that if I had just the right clothes or make-up, it would make me feel more attractive and vibrant.  What I discovered, though, that hanging onto things I didn't need, didn't like, or didn't use actually drained my energy.
What about you, darling?  Have you been filling your space with stuff to make yourself feel better?  Do your surroundings enhance your life or make you feel stressed?  Is your wardrobe made up of tasteful pieces that you will wear for seasons to come or is it crammed with items you rarely wear?
Don't get me wrong.  I believe it's important to surround yourself with items that make you love your life.  Just don't surround yourself with stuff in order to fill a lack of love for yourself or your life.
There are all kinds of excuses for not getting rid of that china or keeping that hideous yellow dress.  But the fact of the matter is, we keep things for two reasons – because we love them or because we fear we will feel guilty or hurt someone's feelings if we ditch it.

Don't allow guilt to keep you buried in stuff you don't need. 
In fact, here are sixty kinds of clutter you can ditch today:
Blue Eyeshadow.  We aren't in high school anymore. And, even if it comes back in fashion, it's probably expired!
Clothes that you are hanging onto because they may come back in style. If you wore it the first time around, you probably shouldn't wear it the second time around.
Every free "gift with purchase" cosmetic case
Every single lipstick color you bought on a whim that you hate.
Lotions and potions that you don't like, didn't work, or smell icky.
Old blankets and linens you keep in case you suddenly have 27 sleepover guests.
Shoes that hurt your feet.
Shoes you haven't worn in years.
Single Earrings.
Socks without partners.
Underwear that is stained or has holes in it.
All your class notes from college.
College text books.
Credit Card statements or other documents you are keeping for tax purposes.  Shred anything  dated prior to 2010.
The stacks of magazines you swear you'll re-read.
Those books that you keep saying you will read.  But only keep on your bookshelf because they make you look "smart".
Those magazines that you are keeping because of all the great recipes you plan to cut out (cut out the recipe, and recycle the rest)
Oh, and speaking of magazines, either send the   you want to send to friends or save for yourself or recycle them already.
All the cross-stitch, knitting, or sewing projects you never finished. Just THINK of all the extra creative energy you'll have once you've let those go.
All those scrapbooking supplies. Because deep down you know you the idea of making a scrapbook makes you cranky.
Half-full cans of paint.  If you are keeping them simply to record the paint color, take a photo and create a file on your hard-drive labeled "house".
Those craft supplies you have set aside for when you have time to get crafty!
CD's you haven't listened to in three years or more.
Headsets that no longer work.  Or those free airline headsets that hurt your ears.
Lamps, toasters, blenders, coffeemakers that no longer work.
Old computers. You can recycle them at Best Buy for no charge.
3 ½ inch floppy disks.  (Don't tell me you still have 5 ¼ floppy disks, too…)
Old stereo, video, or computer wires. If your hubby doesn't want you to trash them, put them in a bin labeled "Random Cables"  with the DATE.  After a year, take 'em to Best Buy.
Old stereos.
Old VHS movies If they're really that important to you, get them in DVD.  Better yet, borrow them from the library.
Record albums. And don't spend your extra hours in a day trying to figure out if someone will buy them. Really. They won't.
Remote controls that don't remotely control anything you still own.
The boxes of cassettes you've been meaning to transfer to CD's.
The stationary bike that got even more stationary after you got it
Unlabeled VHS tapes. And don't waste your time watching them just in case.
Your last four cell phones and all their chargers and blue teeth.
Any glassware or dinnerware that is a "memorabilia" item from proms or sororities or sports events.  Do we really need Class of 1986 Champagne glasses?
Empty butter dishes.  Invest in some inexpensive GLAD containers or Tupperware.
Heirloom dishes you will never use
The "good silver" you don't use that was passed down to you.
The bread maker. Seriously. When was the last time you made bread?
Tupperware containers without lids
Vases you don't love or use.
Old keys that open some door somewhere in the past.
Anything that makes you say, "But I got such a good price on it!"
Anything that you are hanging on to because you paid a lot of money for it.
Broken toys that you plan to fix
The idea that you have to save every piece of your children's artwork and school work because it might mean you don't love them if you don't.  Save less than a dozen and photograph the rest!
Candles you won't burn because they stink.
Figurines gathering dust.
Any kind of collectable you are hanging onto because it might one day be "valuable"
Gifts you never liked.
House plants you no longer love.
Broken furniture.
Picture frames you don't love or use.
The doilies that your Aunt Lilly crocheted that were handed down to you.  Doilies just gather dust….and do we really need them anymore? (Ditto with the afghan on the back of the couch!)
All the hotel key cards you've brought home with you.
All the hotel soaps that you took with you. (And stop taking them. You've got plenty of soap!  Give 'em to a local homeless shelter)
Suitcases you don't use.
The belief that you only have to go through the de-cluttering process once and won't ever have to do it again.
Darling, you have so many gifts to share with the world.  You have the opportunity to create a life you are head-over-heels in love with.  Don't allow clutter to drain your precious focus and attention!
I know it can feel overwhelming.  The biggest challenge can be where to start. What if I could help?
---
Are you ready to ditch some things and clear some clutter?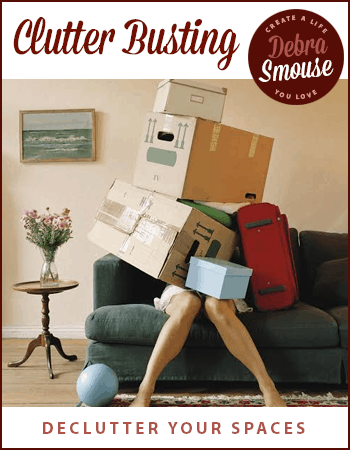 One of the biggest lessons I have learned is that you cannot welcome new things into your life if you don't release some of the old stuff. You need to begin to purge things from your life. Getting clear in your life by dealing with your physical clutter (big clutter and small clutter) will allow you to direct your precious energy towards creating the clear path to living your best possible life.
2018 Course Dates:

Beginning Sunday, October 15, 2018
2019 Course Dates:
Hello, New Year: Beginning Sunday, January 06, 2019
Welcoming Spring: Beginning Sunday, April 14, 2019
Before the Holidays: Beginning Sunday, October 20, 2019
(*Note: As of 2018, this course is lifetime access. That means, you're IN at no additional cost anytime the class runs.)
Course Investment: $21.
Purchase Clutter Busting Email Course